X360, PS3, PC
Friday, October 17, 2008 | 1:29 PM
Far Cry 2 Fanday: We were there
Far Cry 2 will be released next week but last Wednesday, Gamersyde faced the terrible dangers of the Parisian jungle to give the game's multiplayer mode a try. More info inside.

Since we already wrote a full
article
about the game's map editor a few weeks ago, today's article will simply present you with a few basic facts about the game and our first impressions on the multiplayer mode. The campaign mode will provide us with 50 square kilometers of open world in the savanna, the desert or the jungle. I must confess that I have a thing for games that allow free wandering in the midst of nature like
Oblivion
(that was "only" 30 square kilometers big),
Test Drive Unlimited
and even
Grand Theft Auto IV
- that was more about concrete jungle than nature but well. It doesn't mean I have no ground rules as to what more the game has to offer to become part of my favorites.

Unfortunately, I won't be able to give you much more information about the story and the exact content of the campaign mode since we were actually only shown the multiplayer mode. However, I still mentioned the fears that some of you guys have concerning the way the game is built and how good the scenario is going to be. I was told there will be multiple twists in the plot and that there will be some intense sequences to experience in the final game. All we know for now is that the main character has been hired to find the Jackal - neither the animal nor Bruce Willis... though after all, who knows? - and he will have to go through 25 missions to reach the end of his adventure. Since each mission will supposedly last about an hour it should be pretty honest in terms of longevity. Added to those 25 hours, you'll be free to complete 70 secondary missions that will add 45 hours of gameplay. Do the math, that's a promise of 70 hours but as we don't know much about the type of missions that will be available, let's just hope they will be less boring and more varied than in
Assassin's Creed
... We want to believe but we won't take anything for granted until we see it.

Aside from its impressive graphic engine called Dunia,
Far Cry 2
's big new feature is obviously its powerful map editor on consoles - and not only on PC for once. I won't go into details again but, since we got to see the 360 version this time around, I can tell you that it really seems user-friendly. The console versions offer the exact same tools than the PC so the possibilities will be similar, which is good news. Everything seems pretty easy to use despite an incredible amount of different options. I guess it will be a bit less practical than with a good old mouse but it works out well anyway and after a few minutes, we were presented with a functional map: sure it wasn't always really coherent on an "eco-logical" standpoint, but Patrick Awad - the guy who was showing us the editor - was not a registered landscape gardener after all.

Like I said in the previous article, your maps will be available to anyone and a ranking system will make it possible to see who the best architects on the market are. The team at
Ubisoft Montreal
really did a good job at giving us all the necessary tools to be able to offer a bug-free gameplay experience. For example, when you visit your creation, you will always be told if the area you're in runs smoothly enough thanks to a small bar in the top right corner of the screen. Basically, the cursor goes left (red) or right (green) depending on how the game performs so you know in real time if you put too many objects in one place and if there's a risk it might make the game stutter. You'll still need some patience and skills to build something that is as imaginative and interesting as what we saw in yesterday's trailer but if the community is active and talented, it might just be one of the strongest assets of the multiplayer part of the game.

After this brief presentation we were thrown into multiplayer matches on Playstation 3, Xbox 360 and PC. We played the usual Deathmatch, Team Deathmatch and Capture the Flag - where the flag is actually replaced by diamonds. Nothing really innovative, which might disappoint some of you guys, but it still is effective and what's more, very pleasant as the game runs very smoothly on every system. The maps were obviously smaller than what you find in the campaign but there still is room for fun. We found some of the weapons were maybe not precise enough sometimes but overall you get the job done in no pain - if you're not the one burning to death that is. The different guns don't have a lot of ammo though so you'll often need to get to the closest supply point before you're shot like a dog. Still talking about the weapons, you get the classic package but it's always nice to burn down everything - everyone? - with a flame thrower. Be careful not to get... fired yourself.

One thing that you might not like is the fact that you can't pick up other weapons once you've started a game which means you have to stick with those of your selected class. It is still possible to change your class at each death however so it's not really a big deal in the end. It is also possible to be put back on your feet when you're badly wounded but your teammates must get to you before the end of the countdown - you can also choose to commit suicide to get back to business faster. Contrary to
Call of Duty 4
though, you can't shoot an enemy when you're down. When you've just gotten shot or burnt but you're still on your feet, you can fix yourself with the LB - or L1 - button provided you find a safe spot to cut yourself open to find that Dum Dum bullet in your leg. There is also a system of experience that allows you to upgrade the different classes that are available so like I said, the usual stuff but the good stuff anyway.

There were a couple of things that were a bit annoying like respawning because you are invincible for a few seconds and it gives you an unfair advantage. The CTF mode also seemed a bit messy to us. Maybe it was due to the fact that we were new to the game and when it's released we realize we were wrong but it felt we didn't have enough info as to who had gotten the diamond and where it was etc... There are some good ideas too like the possibility to choose a certain number of maps to play on for the upcoming rounds. That way you don't need to be back to the lobby all the time and as you can also vote for the maps you prefer, there's a good chance that you won't get to always play on the same ones.

Let's finish with the geek's corner, that's to say comment on how the game looks and runs. Keep in mind that our impressions are only based on the multiplayer, not the campaign. It is of course the same engine but the scale of the environment is smaller when playing online so there might be minor differences. Other than that, it really looks similar, with a lush vegetation that reacts to the wind, the fire and even the many explosions you cause. The PC version obviously look sharper than the console versions but it is still an impressive game. What's more, the game runs perfectly well and we didn't witness any slowdowns of any kind. Like I said when I came back from Leipzig, it won't be possible to blow buildings up like in
Battlefield Bad Company
but don't worry, explosions are still a feast for the eye anyway. The fire engine seems like a cool feature though we'll need to see if it's not simply a gimmick that does not come in handy that much. I wish there were more interaction with the vegetation, like when you go through a bush for instance. There's a bit of aliasing too, some textures aren't that great but again, overall the game looks fantastic and on top of that, varied - you'll visit the savanna, the jungle, villages, camps, palaces etc...

That's it for today. I will simply add that we couldn't really see any differences between the PS3 and 360 versions apart from the fact that we find Microsoft's controller much easier to handle in FPS but you might beg to differ. We're hoping to offer you some 720p footage of the game as soon as next week and maybe give you our first impressions of the mysterious campaign mode. Word on the street is that it turns out to be really good so we'll just have to wait and see. Don't hesitate to ask us questions if you feel like it, we'll try to answer if possible.
About the game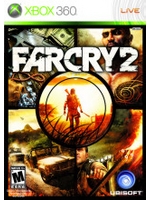 About
Copyright 2007-2016 Gamersyde SARL

$330 of $400 per month
Gamersyde Live
No upcoming streams