GSY PREVIEW | X360, PS3, PC
Tuesday, April 6, 2010 | 11:20 PM
Gamersyde Preview: Mafia 2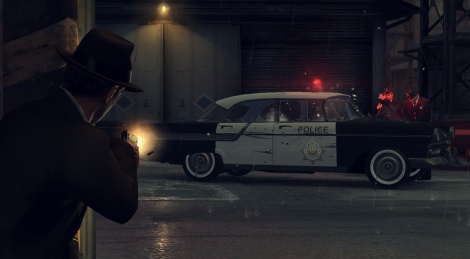 While we were at San Francisco's GDC a few weeks ago, we had the chance to see Mafia 2 in action and get our hands on the preview build of the game. Eight years ago, 2K Czech, formerly known as Illusion Softwork, created a game set during the '30s in the US and involving the mafia. It soon became obvious that Mafia would be quite a masterpiece and that it's atmosphere would be remembered for a long time, especially thanks to a great soundtrack, a mix of symphonic music and jazz. Mafia was the first open world game to really challenge GTA. As a result, one can easily imagine how high the expectations are when it comes to it's sequel. The main question being, will Mafia 2 be at least as good as it's big brother? To find out, just follow the guide!


A universe worthy of the best gangster movies of the 50s

No doubt, Mafia 2 follows the traces of its elder, because fortunately, the atmosphere that marveled all of us at the time is well and truly kept. This time, we leave the Al Capone era for the post-war period, from 1945 to 1955, but the Italian mafia still remains at the heart of the plot. True to it's origin, Mafia II let's you experience the rise of a gangster via an immersive story. Our hero's name is Vito Scaletta, a wounded World War II veteran returning to his hometown, Empire Bay, in February 1945. Once home, he is greeted by his old friend Joe Barbaro and meets up with his mother and sister, who are both very happy to see the only man left alive in the family. Vito's father died a few years before and left behind a heritage that could endanger the family's future. Seeing as Joe Barbaro is already linked to the mafia, it does not take long before our hero is introduced to the biggest criminal organization in the world. As always, the cutscenes and dialogue in the game are of a particularly high quality, which contributes much to the immersion in the adventure.





When Heavy Rain meets Mafia

Obviously, the cutscenes will play a big part in conveying a strong atmosphere and unfolding the story, but that's not to say that gameplay won't have it's own role to play. It is for example possible to interact with all kinds of objects in the different safe houses: you can open the refrigerator, grab a beer, switch on the fan when you are too hot, or even turn off the lights to save some money and the planet. In town, you can ask someone to polish your shoes or you can simply shop for some new outfits. There is a good range of options on how you want your character to look, which is a nice touch as it gives the impression you can personalize him so he does look a bit more unique. Changing clothes is also a good way to escape from the police when they are chasing you, that is to say, if somebody actually witnessed your felony. Some will probably say that these are just little details that are not necessarily important, but I think it definitely helps the player to get in the main character's shoes. Now it's time to have a look at the hero's private garage.





Beware James Dean, Vito Scaletta is here

If you're a car enthusiast, you will be pleased to know that the game let's you collect as many cars as you could possibly wish, thanks to an interface that is very reminiscent of the one in Saint's Row. Once behind the wheel, you are free to drive like a maniac or to respect the law like the good citizen you most certainly are - the speed limiter of the first game is back to help you do so. The driving mechanics are good, the car handling seems realistic enough, even though some vehicles are a bit harder to drive than others. As in any open world game, there is an enormous variety in car models, from the good old farm pickup to the speedy race car and the powerful but slow factory truck or city bus. Car damage is very well done and as realistic as it gets in these type of games. Should you be too keen on frontal collisions, you will quickly end up moving about as fast as a pedestrian going window-shopping. Thankfully Vito is now able to temporarily fix his broken car until he can find himself a better ride. Don't expect to run over every Empire Bay's denizens though, they are as quick and skilled as hardcore gamers and they do a great job of avoiding your bumper/fender. If you keep driving like a misfit, it won't be long before you hear the police sirens, or some gunshots if you really get too reckless.





Empire Bay is not that far away from Lost Heaven

Car chases are of course part of the main character's daily routine and to lose the cops you will either have to drive your way out of trouble in the many streets of Empire Bay or change the car's appearance so it cannot be recognized. When you're arrested, you can decide to stop playing and pay a hefty fine or push down on the accelerator and make the cops even more hostile, like in GTA. Empire Bay is directly inspired from cities like New York and San Francisco but there are still a few similarities with the city of the first game, Lost Heaven. As far as the open world part of the game goes, there doesn't seem to be much to do outside of driving from point A to B or going to the marked spots on the map. You can stop at restaurants to grab a bite, at shops to buy some clothes or at nearby mechanic's if your car needs to be fixed. No side-quests were available in the preview build, which will hopefully be included in the final version. Until we can review the game, we will keep our fingers crossed for this missing portion. The main adventure should last about 15 to 20 hours, with 15 main missions spread out over 3 acts. As you must know, Playboy will be featured in the game and 50 hidden magazine covers will be scattered all around the city, each being a original published cover during that time period. Moreover, some wanted posters with the faces of the developers on them will be part of the collectibles you can find in the environment, allowing you to be a real headhunter.





Rock'n Roll Baby

It is pretty clear that 2K has done everything to make the atmosphere of the '50s as close to reality as possible. It is no wonder then that the soundtrack has been given so much attention. In the first game, we could listen to some famous jazz songs of the '30s; unsurprisingly, the second game will feature the greatest hits of the '40s and '50s. This time, the radio will rock 'n' roll you with artists such as Little Richard, John Lee Hooker or Screamin' Jay Hawkins to name but a few. If good old rock is not your thing, then don't worry, there will be plenty of other genres to listen to, like jazz, blues and boogie. Everything that could be heard at the time will be there to accompany you everywhere, even in the public places, like in the mythical American diners of yore.





When diplomacy fails, let's let the guns do the talking

Though music has charms to soothe the savage beast, let us not forget the presence of guns in the game. The main character will be able to carry four different weapons which will be mapped to the d-pad of your controller. Again, the weapons show a close attention to details with historical firearms like the Thompson submachine gun, the M1 Garand rifle or the inevitable Magnum. On a technical standpoint, the ballistic effects are just amazing, giving even more realism to 2K's game. Whether it's the impacts of the shots or the particle effects resulting from them, everything looks very good. The cover system will obviously remind you of Gears of War seeing that the simple press of the A button will get you out of harm's way. Even the cool slide into cover move has not been forgotten. Hand-to-hand combat is possible, with a special camera angle so you do not miss the show. Special moves are of course included, a good way to give your enemy a hard time once you get behind him. The health system is pretty standard and, in contrast to the first game, you simply need to rest for a little while to be back on your feet. Being a bit less hardcore that way, the game fortunately does not get too easy though. As a matter of fact, the difficulty level is rather well-balanced, forcing you to stay behind cover instead of out in the open, in the line of fire. It is also worth noticing how thorough the developers have been when it comes to hit detection. If you manage to hit the leg of an enemy, you will see him limping his way back to cover. The AI was not perfect in this preview build however, and some foes were sometimes a bit too static when in hiding, something we sure hope will be fixed in the final version of the game.





General impressions

Mafia 2 has nothing to be ashamed of when compared to the first game. Once again, the developers have managed to create a very atmospheric title, with a powerful storyline and charismatic characters whose facial animations make them even more lifelike. The orchestral soundtrack is just perfect thanks to Prague Symphonic Orchestra which was already in charge in the first Mafia. Like I mentioned, the music from the '50s also plays a great part in delivering the historic feel of the game. Technically, there were still a few issues with the framerate and the AI, there was maybe also a bit too much aliasing showing, but considering the game will not ship before the end of August, there is more than enough time to "smooth things out". The combat system may not bring anything new to the genre but the physics engine makes it up for it by making look it great and realistic. Empire Bay is full of life, with many NPCs that always react to your actions. In short, Mafia 2 is shaping up pretty well and it should definitely hold up to its promises.
About the game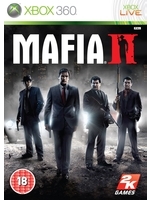 About
Copyright 2007-2016 Gamersyde SARL

$330 of $400 per month
Gamersyde Live
No upcoming streams