GSY REVIEW | X360, PS3, PC
Monday, June 27, 2011 | 4:20 PM
GSY Review: Alice Madness Returns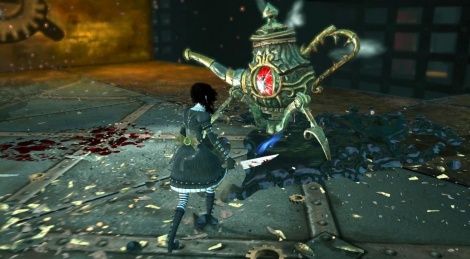 Ten years after a surprising re-interpretation of Lewis Caroll's Alice in Wonderland, American McGee is back with the very same universe in Alice: Madness Returns. A pretty good idea considering how disappointing Bad Day L.A. was when it got released back in 2006. More recently, his episodic game based on Grimm's Fairy Tales turned out more decent though each episode only lasted 30 minutes. Now what about Alice's return? Is it still a disturbingly good title or does it simply fall short? To find out, just follow the white rabbit.



Alice in Chains

Alice is no ordinary child. The poor girl lost her parents in the fire that burnt their house to the ground and the trauma which resulted from it deeply affected her. Haunted by hellish nightmares, Alice must face her deepest fears again and go back to Wonderland, a place which is in fact the representation of the girl's psyche. Because what Alice needs above all are answers, because she wants to remember what happened that day in order to find some peace of mind. As a prisoner of her own illusions, she will have to dive deep inside her inner self and face the death which lurks around every corner of her troubled mind. In this very macabre atmosphere, you, the player, are her only hope of salvation, or are you really?

The story of Madness Returns usually unfolds in the form of 2D sequences which remind a lot of a paper puppet show. A plot that keeps chaining Alice to madness, away from sanity and reality. The graphical style of these cutscenes is undeniably good in spite of the awful compression of the videos which clearly do not do it justice. There are also in-engine cinematics but the great thing is that they never break the harmony of the art style, the characters remaining very faithful to their 2D counterparts. The voice cast should also be praised, the British accent of the different protagonists bringing them to life in an almost Dickensian fashion. Only Alice sometimes lacks the emotional involvement which should be hers when going through such ordeals.



Alice in gameplay land

There is clearly something very old school in the way Madness Returns has been designed. A good thing on certain aspects, a regression on others. First, great satisfaction comes from the fact that the game is a nice return to a genre which no longer is the number 1 choice in today's video game industry. At a time when First Person Shooters have become the safe bet to make good money, it is great to be able to enjoy a good old platformer and everything that comes with it. Precision and good timing are then required to apprehend the many dangers of Wonderland, and in all fairness, Madness Returns is a nice tribute to the old days, even though some things feel a bit outdated.

The levels are filled with hidden paths and collectibles (memories, bottles, etc) and they can only be discovered thanks to Alice's ability to shrink. By maintaining Lb, the British girl can become so tiny that the change of perspective allows her to see things she would normally not be able to see. Invisible (sometimes moving) platforms or even secret passages can be revealed to the player by using this ability; an inviting way to search your surroundings thoroughly. Shrinking can also serve as some kind of GPS system, as you will also be able to see hidden directions on walls to avoid getting lost. Not that getting lost is really possible given the linear structure of the different levels. Controls work well overall, but there are some instances when Alice will be blocked though there is nothing in her way. It isn't that big a deal most of the time, but it sometimes feels that the game lacks a bit of polish.

Considering that this generation of new consoles finally allowed to experience open world experiences to the fullest and to be able to fulfill the player's desire for freedom, it is a bit of a shame that each level of Madness Returns is completely independent and that backtracking is made impossible. It actually makes sense story-wise (as much as sense can be found in Alice's illusions), but it would have been a nice improvement over the first game to offer a bit more freedom. Some will also blame the lack of originality in gameplay mechanics and level design; Alice runs, jumps, pulls a whole lot of levers, slides down ramps, etc. Nothing new then, but that's also why you can say that Madness Returns offers the same type of journey as, for example, Conker Bad Fur Day and Psychonauts. True, it also borrows some of their most awkward moments (hello invisible walls!) but it is nonetheless a great ride. The tribute to classic platformers reaches its height when Spicy Horse's title turns into a classy-looking 2D game set in an Asian type of environment.



Wonderland being inhabited by strange and dangerous creatures, Alice is also forced to use brutal force to survive. However frail you might think she is, she does not hesitate to slaughter all those who stand in her way, thanks to a real arsenal. The butcher knife is obviously back, but there is more; the hobbyhorse is dedicated to powerful melee attacks, the teapot is Wonderland's version of a grenade launcher, the pepper grinder is another ranged assault weapon which looks more like a machine gun (and can also be used to season floating pig snouts to reveal secret passageways), and there is finally Alice's umbrella (very useful to throw enemy projectiles back at them). each weapon can be upgraded provided you take the time to collect enough teeth. Yes, you read right, the game's currency comes in the form of teeth.

Once again, the combat system is pretty standard, with the possibility to lock on to your enemies by pressing LT and dodge their attacks with Rb. Each encountered foe requires a particular tactic and sometimes a bit of patience. Even though you cannot expect the gameplay to be as deep as, say, God of War or Bayonetta, combat is still really enjoyable and fun. Well, except maybe when the camera angle due to the lock on system gets in the way. Indeed, because the camera is set to close to the main character, it is sometimes hard to anticipate your adversaries' reactions and keep an eye on them. Things can also get messy when pressing LT does not lock on the proper target. Knowing that Alice can be up against more than 6 enemies at a time, I'll let you imagine how frustrating it can get. The only solution is then to always be on the move by pressing the dodge button as much as possible.

When Alice's life meter starts to be very low, you enter a kind of berserker mode which gives the young heroine a chance to take the upper hand for a few seconds. When in Hysteria mode, the game turns to black and white and again, the visual style is particularly classy, while it lasts. It won't be long though, so don't think that you always have enough time to defeat all your enemies. Combat will not be your sole activity in Wonderland as the game tries to offer a certain amount of variety gameplay-wise: a good old-shoot-them up once in a while, a simple ground puzzle at other times, or even a musical minigame to give you a few examples. Nothing really worth remembering however, but these sequences are neither long nor challenging so they never become annoying.



Alice in 7th wonders land?

Before talking about performance per se, I think it is best if we first focus on the artistic direction of the game. I am going to go on a limb here and say that, to me, the art style is just amazing. How can one not be enraptured by such a rich world and its odd inhabitants, how can one not embark upon this journey beyond sanity? Sometimes very colorful and detailed, sometimes more industrial or uncluttered, the world of Madness Returns conveys the same experience as the discovery of the work of an impressionist painter. Come to think of it, maybe that's why Wonderland is threatened by an evil train? After all, Monet did such a great job at portraying trains back in the 19th century. But let's not get carried away. What should be remembered about Madness Returns' visuals is that they are truly unique, disturbing but paradoxically so inviting too. Needless to say that it is a nice break from all the realistic-looking games we see today. To think there is more Burton in this game than in the last Alice in Wonderland movie... Now wait, that's one hell of a praise for the game!

From a technical standpoint, I guess it will depend on which version of the game you get to play. On PC, with the 1080p resolution, antialiasing and a few more effects (like for example those made possible with PhysX), the art style is very well-supported by the graphics. Yes, it is true that the textures are not all detailed enough (to the point they sometimes have a cel-shaded look), but subjectively speaking, it does not prevent the game from looking great. Framerate is oddly locked at 30 fps but it is possible to edit the engine file and change it to 60 fps. There are a few slowdowns as well as some occasional freezes, but nothing bad enough to ruin the experience. The console versions are of course a bit rougher around the edges. There is for example no AA on Xbox 360, the framerate is locked at 30 fps (but some slowdowns can be noticed at times, on PS3 mostly) and the game looks a bit less sharp overall. That being said, the game still looks good overall, especially thanks to its impeccable art style.



verdict

I am very aware that saying that I had the best of time playing Alice: Madness Returns will probably stand out when compared to what many other reviewers said about the game. For them, Spicy Horse's title was maybe a bit too flawed to be recommended, the cons outweighing the pros. I for one completely understand why some might feel that way, but even though I agree to say that some areas of the game could have used more polish (some levels are more memorable than others for example), I would be lying if I said I did not enjoy every bit of that tortured universe. If you ask me then, I will definitely recommend this sequel. Not because summer is upon us and very few games will be released, but because Madness Returns is actually a good game. With about 15 hours of gameplay (not to mention the presence of the first game on Xbox 360 and PS3 - on PC too if you get the Complete Collection copy), you probably don't want to miss it. I mean, how mad would that be?


To finish this article, we thought you might enjoy a leap in time, back in 2001 when American McGee's Alice was released. Graphics and gameplay may be dated now, but being able to play the first episode for free is a nice gift to the players. Here are then the first 10 minutes of the game that started it all for American McGee.



Note: We thought we could also propose at least one video of the 360 version but EA have not sent us our copy yet. We waited (the review has been ready for more than a week) but it makes no sense to wait anymore. Sorry about that guys, but unfortunately, there is nothing more we can do.

Once again, many thanks to my friend Plumb for making sure not too many mistakes were left in the review. :)
About the game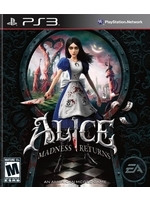 About
Copyright 2007-2016 Gamersyde SARL

$330 of $400 per month
Gamersyde Live
No upcoming streams