X360, PS3, PSP, DS
Monday, October 13, 2008 | 9:18 AM
Tom Clancy's EndWar: Fanday
About a week ago, Gamesyde was invited to Tom Clancy's EndWar's fanday in Paris, not too far from the Eiffel Tower that blows up on the game's cover. Most of the team already was in Tokyo for the TGS and they had taken all the cameras with them and the rest of the guys were too busy to accompany me. As a result, I ended up being the only one representing the site in a little multiplayer tournament. More info inside, if you're in to reading that is.

First things first, it might be useful to remind you what
Tom Clancy's EndWar
is all about. The RTS genre is not particularly thriving on consoles and it's mostly due to complicated controls and some heavy interface design.
Ubisoft
is about to try to change things for the best with a game that can be played almost entirely by voice command. Since it's a Tom Clancy game, expect a very realistic world with geopolitical issues: in the near future - in 2020 - the world is on the verge of a third world war because of the oil crisis. For more details, you should check out the
official site
of the game. A little anecdote though, Ghost Recon's first time fans will be pleased to see that Scott Mitchell has been promoted to Army General since his latest adventures in Mexico so it's all very coherent with the other games of the franchise.

Let's start with a few words on the campaign mode. I didn't get much time to play it as we were mostly shown the multiplayer part of the game but I still have a few things to tell you. The campaign mode will be divided into two different parts: the first one will be some sort of long tutorial in which you won't be able to choose among the different factions. Its goal is clearly to teach you how to play and it should last about 4 to 5 hours. The second campaign will be far less scripted and linear and the player will be given more freedom for 5 to 7 hours more of gameplay.

In
EndWar
, you're in command of a certain number of units that can go up to 12 simultaneously: drones, infantry, artillery, tanks and air units (no maritime units though), most of which can be either light or heavy. As you progress into the mission, you can call for backup to help you handle difficult situations or simply wipe out the enemy and win the battle.

Like I said, almost everything in the game can be played by voice command but you can also control your units with the controller, which is far less fun, obviously. When the game starts you first have to calibrate the voice command device so your voice is recognized. Once done, I must say it works pretty well overall. There were some occasional problems - but I guess having a bunch of journalists screaming orders all around me did not help - but most of the time it was pretty amazing to see that you could be understood even when mumbling a little. It's really easy to use as you simply need to press the right trigger and order your men around. When you do so, a menu appears on the screen showing you the different commands, which is of great help when you start the game and you don't know all of them by heart. First you need to call the unit you want to pick, then tell your men what to do (like securing a building, moving or attacking) and finally give them the target they have to reach.

Now to tell you more about how the game works, I'm going to talk about the multiplayer in
EndWar
. We got to play the skirmish mode but before I tell you more about it, I first have to talk about the most ambitious mode of them all.
I'm referring to the Theater of War that
Ubisoft
presents as some kind of MMORTS, no less. Each player will have to choose a faction among the three that are available (The American Joint Strike Force, the Russian Spetsnaz or the European Enforcer Corps) and he will then have to fight against thousands of other players in a persistent universe. There will be about 40 different maps among which London, Tokyo, Moscow or Paris for instance and the game will end once one of the factions has gained control of the world, the universe and even the US. You will have to stick with the selected faction until that happens and you won't be able to join a game in progress because of the way experience is handled. Indeed, everyone starts with the same level of experience and as you progress into the campaign you gain points that will make it possible for you to upgrade your units.

Talking about customization, we were told that there will be a hundred possibilities to upgrade your gear, which is promising in terms of diversity. Also, it is important to understand that, because of such a system of experience, you will be forced to play it smart - so not Rambo (Six?) style - and not to send your units to death too quickly. It is indeed a lot preferable to keep them up and running as long as possible so they acquire new equipment, weapons etc. Because the game will offer a persistent world, the battle will continue no matter what and it means sometimes the fight will last as long as 1 or 3 months (theoretically). So just like in real life, if you go to the bathroom or try to catch up on your sleep, the fight will go on. One more thing, you will only be able to play with people speaking the same language than yours.

So what about the skirmish mode? Well, first you need to know that it will be playable to up to 4 players co-op online. Each faction starts in one area and the goal is to capture the highest number of check points by securing special buildings with your infantry. It can take between 10 to 30 minutes to complete depending on how skillful the players are to reverse the situation. Once you secure a building, you unlock special abilities like air strikes or electronic strikes - each costing a certain number of command points .

When one of the factions is leading, the Defcon mode starts and a 5 minute countdown begins. During this phase the player who's losing has access to weapons of mass destruction to reverse the situation. No need to say that in such a case, you need to remain as calm as possible if you want to have a chance not to get all mixed up in your commands and strategies.

I can't say I was a worthy representative of the site during the tournament but I still managed to get to the semi finals. My first battle was even a little chaotic to say the least: there were a few reversals and a lot of action (yeah I did not really play it smart) but I ended up with only one reconnaissance unit and no more points to call for backup. Hopefully, the other player - so the bad guy - was out of infantry and could not secure any more buildings - and I had the lead - but I guess that managing to stay alive until the end of the countdown was kind of a miracle - especially since my opponent was still heavily armed... He actually never found me because he either didn't have access to the tactical map - which comes in handy a lot - or simply didn't realize he should have used it. So let's just say I had it all figured out right from the start... Or not.

Technically, the game runs on UE 3, like the Rainbow 6 Vegas franchise. Don't expect the most impressive game of the end of the year but for a RTS game I think it's pretty good. The soldiers and vehicles are scaled to the environment (which is not always the case in such games), the environment is destructible, the lighting and smoke effects are very well done. Honestly they've done a good job at
Ubi Shanghai
, especially with the cities that are very detailed.

Now does it mean that
EndWar
is going to be a great game? It's hard to be sure as I only played the game for a few hours but what I can tell you for sure is that I had a lot of fun, which, considering I usually don't like RTS games, is a good start. The game is quite easy to handle, though you definitely need some time to fully understand how to take the most of it (and to be able to "kick these bastards' asses" as my soldiers sometimes said). My only concern goes to the hardcore fans of the genre that might consider it is way too simplified compared to what you can play on PC. There were some journalists that were more in to RTS games than me and who still enjoyed the game so it can't be bad, can it? I guess we'll just have to be patient to see what the final game has to offer and to find out if the multiplayer is as promising as it looks. After all, there still are many Matthew Broderick's fans from the 80s that would just love to play a good online war game.

The game is planned for release on November 6th on Playstation 3, Xbox 360, DS and PSP (it will be a turn-based game for the portable versions). PS3 owners will also be happy to learn that the game should also be available with the official Bluetooth headset that will also be released with SOCOM. For the most impatient of you guys, know that a demo should appear on Xbox Live soon and that it will feature a -very - short mission of the campaign mode and the skirmish mode - against a player online or the AI - on one map. If you want to make your own opinion, there is just no better way.
About the game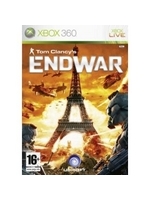 About
Copyright 2007-2016 Gamersyde SARL

$330 of $400 per month
Gamersyde Live
No upcoming streams